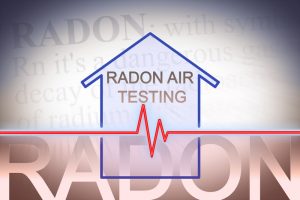 Heating and air conditioning is one half of HVAC. The other half is ventilation and indoor air quality. Simply controlling the temperature of the air is not enough to give you a complete portrait of home comfort.
Normally, you would fix your air quality issues by installing humidity controllers or air purifiers. These devices directly improve your comfort by balancing moisture in the air and by removing germs.
However, there is a very serious part of indoor air quality that often goes understated: radon exposure. If your home has unsafe levels of radon, you'll want to have it addressed immediately.
Does My Home Have Radon?
The only way to know for sure is by having your home tested. That's because radon is a colorless, odorless, and radioactive gas. You won't be able to observe it without special tools, but due to its radioactivity, it can cause serious damage before you even realize you've been exposed to it. With enough exposure, it can cause lung cancer.
Radon is released naturally from the breakdown of uranium in soil, rocks, and water, so we can't avoid it. The issue is when radon becomes trapped in buildings and becomes highly concentrated. Not only can it appear in your home, but it can also appear in the water supply. The EPA suggests that any living space below the building's third floor should be tested for radon.
Find Out for Sure With Radon Testing
During a radon test, qualified indoor air quality experts in Portland can inspect your home using both short-term and long-term radon testing methods.
In the short-term, they'll be able to determine the radon level of your home within 4 days of testing. This is the ideal test to have performed if you're moving into a home or are just curious about your home's levels.
As for the long-term methods, these are typically administered after the home has had radon mitigation performed. They'll be able to account for variations in the weather and indoor air quality to see if conditions have improved.
During a radon test, your home will be inspected in all the places where radon can enter:
Empty spaces in the walls.
Cracks in solid flooring, such as tile or concrete, and in the walls.
Gaps between the floors.
Your water supply.
Fighting Against Radon With Mitigation
Unfortunately, radon is not something we can eradicate. However, we can take measures against it by filtering it out of our water or dispelling it from our homes. This is called radon "mitigation," and some of the tactics include:
Using a combination of vent pipes and fans to blow radon outside of crawlspaces, basements, and drywall and into the outdoor air.
Lowering humidity levels in the home.
Filtering radon out of the water with a combination of charcoal and aeration methods.
Sealing cracks and gaps in order to prevent more radon from entering the home.
When you work with an expert, you can expect them to only use the methods that make sense for your home's needs.
Want to learn more about radon testing and mitigation? Contact The Clean Air Act today. Ask for Sydni, our Office Extraordinaire, to schedule your next appointment! We will take care of you from there.
Tags: Indoor Air Quality, Portland, Radon Testing