Duct Cleaning Services in Portland, OR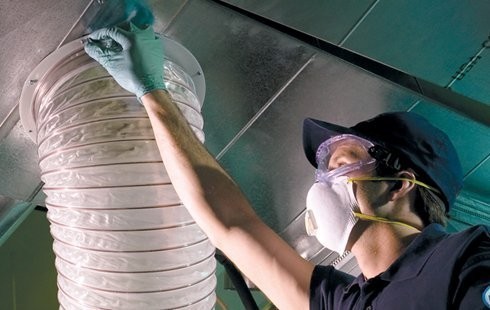 The ductwork in your home is designed to move large volumes of air between your HVAC system and each vent or register in the house. To do this efficiently, the ductwork needs to be as clean as possible. Even an eighth of an inch of debris in your ductwork can reduce efficiency by as much as 30%, which translates to your HVAC system working harder to maintain a steady, comfortable temperature.
To learn more about Portland duct cleaning services from The Clean Air Act, Inc., give us a call today. We offer comprehensive inspection and cleaning services for all major ductwork systems as well as duct repair throughout the greater Portland, OR area and can ensure yours is in top condition to deliver air as efficiently as possible.
Learn more about why duct cleaning is important for indoor air quality.
Annual Duct Cleaning in Portland, OR
When your ducts are properly cleaned on an annual basis, you will benefit greatly from the boost this gives to your HVAC system's efficiency. Because there is no debris slowing the movement of air or reducing the conduction of that air, your HVAC system will not be forced to work harder to maintain a steady temperature.
Additionally, you will find that clean ductwork will reduce the presence of allergens in your indoor air. The dust and debris in ductwork that often contributes to outbreaks of asthma symptoms will be removed and ensure the health of every member of your family.
Portland, OR Duct Cleaning Process
If you live in Portland, OR and are ready to have your ducts cleaned, now is the time to give us a call. Our ventilation and HVAC experts can visit your home and provide a comprehensive overview of the state of your ductwork, going so far as to perform full testing if you need it to check for possible leaks and other problems that might further decrease efficiency.
We can then perform thorough duct cleaning by not only removing excess dust and debris, but also sanitizing your ductwork to protect you against high levels of germs and other pathogens.
For all of your duct cleaning needs, call the experts of The Clean Air Act, Inc. today, and ask to talk with one of our dedicated Portland duct cleaning professionals. We will work closely with you to ensure your entire ductwork system is clean and efficient, so you do not pay more for heating or cooling, and your indoor air quality remains high.
Contact The Clean Air Act, Inc. today if you are in need of duct cleaning services in the greater Portland, OR area.