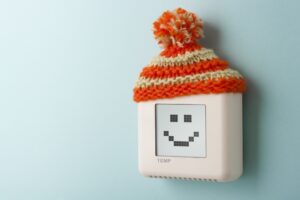 You've likely already turned your heater on for the season, and now it's time to ensure that your heater is 100% ready no matter how cold the temperatures yet this winter. The only way to do that is by scheduling furnace service in Clackamas, OR.
Our team can check out your system and make sure that everything is operating the way it should. If we have any concerns, we can bring them to your attention and offer to repair or replace parts that need to be addressed before winter is in full swing. You can keep reading to learn more about why a tune-up and inspection for your furnace is so crucial at this time of year.
Prevent a Furnace Breakdown
One of the top reasons to invest in a tune-up is that you can stay ahead of a furnace breakdown happening. Heater breakdowns can happen at the least convenient times and there's no way to predict when or how a breakdown will happen. But you can prevent them almost all together.
When you invest in a tune-up, it's an opportunity for our team to check on all of the individual components that make up your furnace. We can see how they are working together and where there might be red flags in operation. By making minor repairs now, you can keep your furnace running instead of facing a breakdown later in the season.
Save Money
Investing in a tune-up is also saving you money in a couple of ways. First, a tune-up is much cheaper than other potential repairs that you may face otherwise. When you spend money on maintenance now, you're addressing much smaller problems. Waiting until you absolutely have to make a repair or replace a component in your heater can lead to much higher service costs.
You're also saving money on your monthly energy bills. Let's face it, the cost can be high to keep your home warm in the winter, especially when temperatures dip below freezing. You want to stay warm, but you don't want to break the bank doing it. The more efficient that your heater is, the less energy it needs to use to produce results. Even just saving $10 or $20 a month on your energy costs can add up quickly over the life of your furnace.
Invest in Longevity
Tune-ups are not just about the short term benefits. You're also investing in your heater by ensuring a longer lifespan. A heater can last for anywhere between 15 and 30 years, depending on how well you care for the system. Heaters that have annual tune-ups consistently will last longer than heaters that rarely get tune-ups, if at all. 
It may seem like overkill to schedule a tune-up when your heater isn't having any obvious problems, but chances are there is something minor that we can tweak now to prevent problems later on. Doing this all along is going to ensure that your heater lasts up to twice as long. You'll be happy in the coming decades that you made this investment.
Please call Sydni, our Office Extraordinaire, to schedule your next appointment! We will take care of you from there!