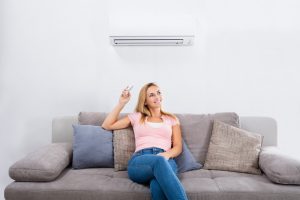 When it comes to heating systems in Portland, there are so many different types out there that it can be hard to remember them all. But there is one type of heater that stands out to us: the ductless mini split heat pump. These are nifty systems for a multitude of reasons aside from being great for custom heating solutions.
And we know how important a reliable heating system can be when temperatures take a real tumble.
So, whether you are in the market for a new heater or you are simply curious about the popularity of ductless heating mini splits in Portland, OR, we think it is important for everyone to know what the benefits of a ductless heat pump are.
Ductless Heat Pump Benefits
Aside from the fact that a ductless heat pump provides, well, heat when you need it, there are several benefits that come with these systems. We've collected several of them below for you.
No Ductwork
Let's start with one of the most obvious benefits: there are no ducts required. This is in the name after all. While a ductless heat pump does need an outdoor unit, it doesn't require the usual pathway network that is built throughout the house to deliver air. This means no need for duct services like cleaning or sealing, saving you quite a bit over the year. What's more, this makes heat pumps ideal if you don't have ductwork and don't want it.
Energy Efficiency
Ductless heat pumps are known for being a highly energy-efficient type of system. According to the Department of Energy, a modern heat pump has the ability to reduce a home's electricity usage by about 50% when compared to the amount used by another system such as a furnace.
The Reversing Valve
We know this may not seem like a benefit right now, but we promise you'll be grateful for this information later on. Thanks to the reversing valve in the mini split system, your heat pump has the ability to switch the direction it cycles refrigerant. This allows it to produce heat in the cold months and cold air in the hot months. Only one system and double the uses!
Custom Comfort Solutions
Ductless mini split heat pumps operate with one outdoor unit and multiple indoor air handlers. These air handlers can be set up wherever they are needed in the home and are often remote controlled. While they can be set up to be connected and provide synchronized warmth, they can also run separately, allowing for custom heating in different areas of the home. This means no more having to sweat it out when your loved ones feel like 80°F just isn't enough.
Ductless Mini Split Heat Pump Services
So, there you have it: four fantastic benefits of the ductless heat pump. With such a wonderful system, you'll want to make sure you take good care of it. When you work with the professionals at The Clean Air Act you can rest assured that your heating system is in good hands.
Contact Clean Air Act today to schedule your next heating system service. Please call Sydni, our Office Extraordinaire, to schedule your next appointment! We will take care of you from there! 
Tags: ductless heat pump, Portland OR