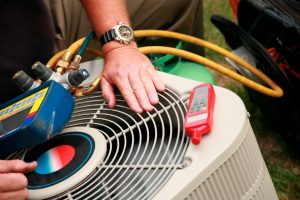 Late summer sees an uptick in air conditioning repair calls, as problems get worse under months of daily use and with weeks of warm weather still to come. If you've been putting off an issue with your air conditioner until the end of summer, or your experience an unexpected problem with your air conditioner at the end of the season, you need to schedule a repair service as quickly as possible.
Waiting for repairs is usually a mistake. Even if the air conditioner seems to be functioning, the longer you wait to get an issue addressed, the further the damage will spread and the more expensive the repairs are likely to be. Furthermore, addressing a repair issue proactively lets you schedule the session at a point that's convenient to you, instead of having to rush to and fro in the face of an unexpected breakdown.
Once you've made the decision to call in a repair service, then next question becomes which service to call. You have a lot of options in the area, and only you can make the final decision as to who to count on. You can, however, look for certain factors that speak to a high quality of service. We've included a brief breakdown of them below.
Guarantees
A reliable service begins with a reliable guarantee. That means the repair technician will offer an estimate in advance, before work begins, so you know what the costs will be and there won't be any nasty surprises waiting for you midway through. It also means that the parts and labor will be replaced free of charge for a given period of time in the event that the repair job doesn't solve the problem the way it should. That protects you in the event of the unexpected, but more importantly, it means that the service is confident in its ability to do the job the right way every time.
Affiliations
Most consumers are smart enough to check ratings sites to get an idea of how past customers rate their experience. Quality repair services will have additional affiliations as well, starting with the heating and air conditioning companies themselves. Companies such as Aprilaire, Goodman, and Mitsubishi have a vested interest in guiding homeowners to repair services with experience in handling their particular systems: making sure that the issue gets resolved by the right people.
A Variety of Systems
Most of us rely on centralized air conditioners to keep our homes cool and forced-air furnaces to keep them warm. But they're not the only types of systems out there. Ductless mini-split systems, geothermal systems, heat pumps and other systems use alternative forms of heating and cooling. They need repairs just like more traditional systems do. A company which can address a variety of systems usually has the experience and training you need to deal with your particular issue. Companies with a more limited field, however, may not be able to diagnose or correct your specific problem.
For high-quality repair services in the Gresham, OR area, call on the trained pros at The Clean Air Act!