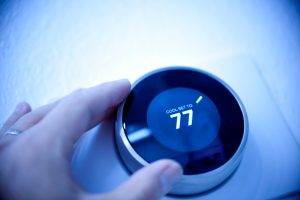 Summer is here, and with the high temperatures and higher humidity of the season comes increased demand on your air conditioner. You need yours to respond with reliable service for days (and often) weeks on end. In that environment, even a little issue can turn into a big problem very quickly, and the longer you wait to take care of an issue, the greater the chances of it costing more than you'd like to pay.
Not every air conditioning issue results in a breakdown, at least not right away. Indeed sometimes, there might not be any apparent issue at all, save perhaps for an unexpectedly high monthly energy bill. But if you watch closely, you can spot the early signs that something is wrong and move to correct it. It can be tempting to just sit on such issues instead of turning the system off, especially during a hot day. But doing so could save you a great deal: more than you might think.
Common Issues
Most early signs of air conditioning distress are easy to ignore, at least at first.  They can include (but are not limited to) the following:
Reduced cooling levels. When refrigerant runs low, there's a breach in the ducts, one of the components is overheating, or any one of a number of other issues crop up, it can reduce the cooling levels of the air emerging from your vents. That forces the air conditioner to work harder than it should and will raise your monthly bills accordingly.
Low air flow. If there's a blockage or breach in the ducts, if the filters are clogged, or if there's trouble with the fan or the fan motor, the air won't move as swiftly through the vents as it should. The effect is the same as above: higher bills and an increased risk of a more serious breakdown.
Strange noises. Strange noises translate to anything you don't recognize as the normal functioning of your air conditioner: hums, rattles, moans or anything else out of the ordinary. In most (but not all) cases, the noises will start and stop with the starting and the stopping of the air conditioner.
Why They Must Be Dealt With Quickly
Again, such issues rarely constitute a full-bore shutdown. But the issues causing them won't go away on their own, and the longer the situation continues, the more the damage will spread. You should never attempt to diagnose or repair an air conditioner on your own. Refrigerant is dangerous and even if you don't injure yourself, and repairs require proper training and licensing to conduct effectively. Instead, shut the system down immediately, and call in a technician right away.
A good preventative measure is to schedule a maintenance session once a year. That allow the technician to spot these signs and schedule repairs (if necessary) at your convenience. That solves the problem properly and ensures that you can make other arrangements if your air conditioner is going to be offline for a few hours.
For quality air conditioning repair in the Tigard, OR area, call The Clean Air Act today!