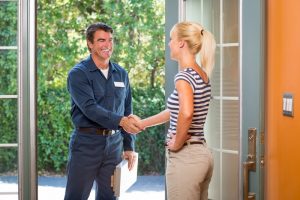 You would never hire your best friend to fix your teeth for you (unless, of course, they were an educated and licensed dentist!). And you would never hire a dentist to come and fix your car (unless, of course, that dentist also happened to be a professionally trained mechanic!). See, what we are trying to say is that when it comes to your HVAC system, you don't want anyone but a certified and licensed professional to perform your installation, repair, and maintenance services.
But how do you know if you've found the right contractor to take on the job?
Well, for one, you keep reading the post below! We have listed some of the qualities you should look for the next time you need to schedule your important HVAC services in Beaverton, OR.
Here's What You Should Look For in a Contractor
Here are just some of the traits you should look for in a good HVAC contractor:
Licensing
The job of an HVAC technician can be quite tricky—and potentially even hazardous, especially if you are having gas-powered equipment like a furnace installed. Technicians need to have the proper knowledge and licensing required to do these joba.
The technicians at any given HVAC company should be licensed, and keep their license and related paperwork up to date. Before hiring a contractor, check on the status of their licenses, and this will tell you if they are in good standing with the state.
Professionalism
When it comes to HVAC service technicians, you Are of course not going to expect someone to show up at your door in a suit and tie. What you should expect, however, is for HVAC professionals to present themselves in a professional manner and take pride in their work.
This includes being respectful and courteous, especially since HVAC contractors are community and customer-oriented. At the end of the day, you should feel good about the service you're receiving.
Promptness
You should expect your HVAC technician to arrive on time and to be as efficient as possible with whatever service they provide for you, from HVAC installation to repairs and maintenance.
If you keep calling a company only to have their phones consistently ringing with no answer or you leave a voicemail and don't receive a response within a reasonable amount of time, you probably don't want to trust that company to do any work at your home. Businesses should always value and earn your trust—skipping phone calls communicates the exact opposite.
Knowledge and Experience
When you're investing in any type of HVAC work, you want to have confidence that the technicians you hire have the know-how to get the job done right, the first time. We have trustworthy employees who have been trained to a high standard, and we're willing to answer any questions you may have about our experience and HVAC education.
Be sure to schedule your HVAC services with the team of qualified experts at The Clean Air Act, Inc. today! Serving the Greater Portland metropolitan area. 
Tags: Beaverton, Contractor, HVAC, HVAC Services